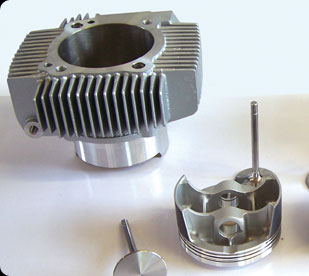 NCR MOTOR PERFORMANCE
NCR specializes in the development and improvements in the two valve DS1000 and DS1100 Ducati engines.
The NCR1100 engine is developed to be an ultimate expression of what can be done with the 2 valve Ducati platform. Through constant development since 2003, NCR has obtained outstanding performance on the track which led to ultimate domination in seasons 2004 to 2006: With 20 victories in 25 races and without ever a mechanical failure! That is PERFORMANCE and RELIABILITY which has signified NCR's success in the last 39 years!!
NCR has developed titanium connecting rods and valves, forged pistons, NCR Corse cams, lightened gearbox and balanced and lightened crankshaft in order to increase both PERFORMANCE and RELIABILITY. Combined with titanium hardware, axles, covers as well as magnesium cases and many other exotic parts, it is no wonder that NCR becomes the heart of any Ducatisti's dream project. It is not surprising that NCR is able to lighten the stock Ducati engine by at least 10% as well as add 30 horsepower as seen in the NCR Millona One Shot.