MACCHIA NERA Concept
UA bike built with a singular focus - power and light weight. Achieved with extensive use
of Poggipolini's titanium artistry and with his highest know-how from the F1, MotoGP and aerospace technology and experience (since 1950).
Macchia Nera. Italian for "Black Spot."
Curious name for a bespoke motorcycle. Definitely unique, the Macchia Nera bears little resemblance to the custom bikes we frequently see.

How unique? Here's how the plan unfolded. Stefano called on his good friend, Aldo Drudi the famed Italian designer.
"Il Signore Drudi" was given freedom to create a fresh and aggressive design.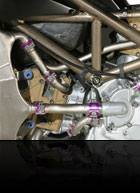 185 HP, 135 Kgs. Road rage has met its soul mate.
Aldo Drudi design, captured in carbon fiber and titanium.