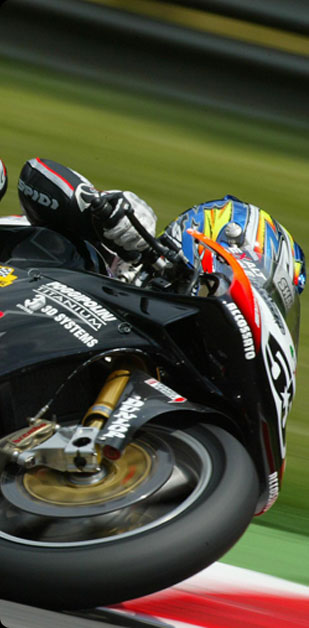 NCR was born in 1967, in Via Signorini in the little town of Borgo Panigale, on the western outskirts of Bologna. Rino Caracchi, Giorgio Nepoti and Rizzi, the three founders, created a state-of the-art mechanical workshop where they built racing bikes starting from stock Ducati production bikes. This is how the first true competition Ducati were born, almost next door from the main factory.

With the invaluable help of technicians such as Franco Farnè, Recchia, Pedretti, Cavazzi and Taglioni (an engineer), from the late '60s to the early '90s, they created unique bikes, excellent from every standpoint and capable of winning world-class competitions. The best known of all is probably the glorious Ducati 900NCR on which Mike Hailwood won the 1978 Formula 1 World Championship in the Isle of Man.
The NCR team (since Rizzi left the team, the "R" stands for Racing) was the first official racing team of Ducati. In the 70s Ducati didn't directly take part in the competitions and therefore engines and chassis were given to NCR to work on. They were made lighter, shinier, more powerful to an extreme degree, and then assembled to create true racing bikes to race all over Europe against official teams. Since the very beginning Ducati-NCR stands for racing, excellence, technology and passion. Besides Hailwood, other great drivers raced with NCR: Cannellas, Grau, Perugini, Francini, Ricci to name a few. Others raced for other teams on Ducati-NCR bikes, like Gardner and Spencer. From all over the world racing teams would come to Via Signorini to buy the latest NCR products and so today the limited series produced by NCR starting from Ducati models can be found anywhere in the world.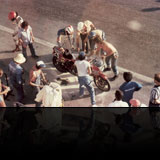 Rino Caracchi and Giorgio Nepoti left an ever-lasting mark in the Italian motorbike history and that of the Ducati brand. Their philosophy was that everything could be improved, made lighter and more powerful. As the the most caring and scrupulous artisans, they would pay attention to the smallest detail, not a single screw has escaped their attention, because on the track everything can make a difference.
Today NCR can benefit from the Poggipolini Group technology and space-age materials, but all NCR bikes and special parts are still developed, built and assembled by hand, one at a time, applying the highest available technology and the most attentive care: this is, we believe, the only way to reach true excellence, where "detail" is king and can forever convey emotions!
Thanks to the Poggipolini Group leading-edge engineering contribution and experience in Formula 1 technology, NCR has a definite competitive advantage, enabling it to offer the market, very exclusive and complete prestigious bikes for the racing world based on Ducati production models.